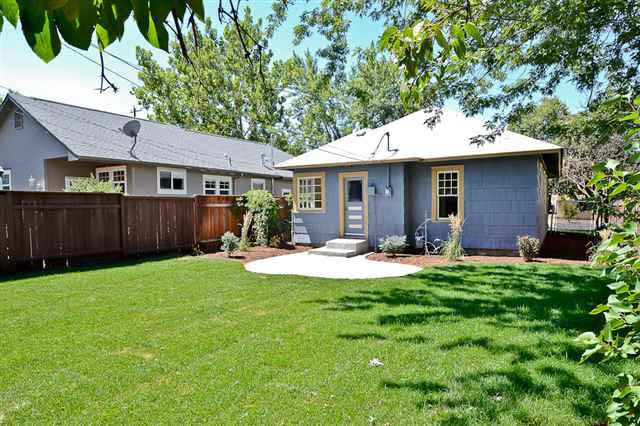 This old-fashioned house had the perfect space for some old-fashioned hard work: A garage that doubled as a workshop. The only thing it lacked was climate control.
Now, keeping your area at the right temperature is about more than just feeling comfortable when it comes to a workshop. Our homeowner wanted to make sure his tools and materials wouldn't get damaged by extreme temperatures.
Over the years, he's picked up more powerful — and expensive — equipment. And, he's been working more with wood. That needs to stay at a relatively narrow temperature range so it doesn't warp.
So, he called Snowflake Air to see what options he had to add heating and cooling to his garage workshop. We walked him through a few options before he found the right one.
In this case study, we'll review:
How To Heat And Cool A Garage Workshop
Single-Zone Ductless Heating And Cooling
More Benefits Of Ductless Mini Splits
Mini Split Installation In A Garage Workshop
And, if you want to make your garage, workshop, addition, or any room more comfortable, call or email us here at Snowflake Air for a free consultation.
Problem: A homeowner used the garage in his century-old Boise, ID home as a workshop. But, it had no heating or air conditioning.
Solution: Installed a single-zone ductless mini split. One air handler is enough to keep the entire open space at the right temperature no matter what the season.
Read More: How Much Does A Mini Split Cost In And Around Boise Metro?

How To Heat And Cool A Garage Workshop
Our Boise, ID homeowner had three options for heating and cooling his garage workshop. Only one fit the bill for him. But, we'll briefly go over all three:
Using Portables Heaters And Air Conditioners
Extending The Existing Ductwork
Installing Ductless Heating And Cooling
Using Portables Heaters And Air Conditioners
Our homeowner already used a space heater from time to time. But, he knew this wasn't a great long-term solution.
It used a lot of energy and only heated a small space. And, he couldn't leave it on when he was done working. That meant no consistent climate control.
As for cooling, he could have gotten a portable air conditioner. It'd be cheap to buy but expensive to run. Plus, the garage was pretty big and wide open. A small unit like that would have trouble keeping up.
Extending The Existing Ductwork
Our homeowner asked about extending the house's existing ductwork. It made sense, right? There's already a powerful heater and air conditioner in the house. Why not tap into that for the garage?
It's possible, but it's costly. And time-consuming. Even then, it wouldn't even work that well.
Sure, we could fabricate more ductwork and rip through a wall or two, so it ran into the garage. But, our homeowner's HVAC system couldn't handle the extra load. A good heating and cooling setup is carefully-sized for the space it's treating.
And, even if it were strong enough, the temperature wouldn't be quite right with the thermostat a few rooms away on the other side of a fire door.
That left one more option: Ductless heating and cooling.

Single-Zone Ductless Heating And Cooling
A ductless heating and cooling system offers the best of both worlds when compared to those other options. Our homeowner would get the same power and comfort that his central air and furnace provide — maybe even better! And, his garage workshop would get the individualized, custom treatment it needed.
To achieve this, we'd set up a single-zone ductless mini split. Inside would be a wall-mounted air handler that heated or cooled the air in the garage.
It works using a built-in thermostat that continually measures the temperature right in the room. And, the indoor unit is sensitive enough to locate hot and cold pockets within the garage.
That way, it can direct the treated air in the exact direction that needs it. It's great for any large open space. And, it's especially beneficial for a large garage that can get drafty near the doors.
Meanwhile, the heat pump, or outdoor unit, uses Inverter technology. That allows it to run at variable speeds instead of only turning on at full blast or shutting off entirely like conventional HVAC.
As a result, it often runs in a low-power mode that maintains an exceptionally comfortable and consistent temperature all the time.
Will all these features, going ductless was a no-brainer for our Boise, ID homeowner. And, the benefits didn't stop there.

More Benefits Of Ductless Mini Splits
Along with providing exceptional comfort, Mitsubishi mini splits are exceptionally quiet. Now, when our homeowner is playing music or hanging out with his friends, that's not a big issue.
But, for those times when he's thinking through a new project or concentrating on a delicate task, that silence is golden.
The ductless system is also exceptionally energy-efficient. So, for all this great comfort and excellent performance, our homeowner hardly sees a change at all on his monthly energy bills.
We mentioned the Inverter technology and low-power mode. That plays a big part in how little energy these setups require.
By maintaining a steady temperature, the system doesn't require big bursts of energy to come roaring on a few times every hour.
Read More: Rebates and Financing For Mini Splits In And Around Boise Metro

Mini Split Installation In A Garage Workshop
Installing a one-zone mini split like this usually is very easy. And, doing a setup in a garage is even easier. Once our homeowner picked out the models he wanted, we had the work done in a day.
All we need to do is mount the air handler inside and the heat pump outside. Then, we run a set of lines connecting the two.
These lines contain the coolant liquid that transfers heat, plus the power supplies and a condensation drain for when the system dehumidifies the air in the summer.
Since the line set is narrow and flexible, we run it behind the air handler, through the wall, and out to the heat pump. That means there's no major construction necessary.
Inside, all our homeowner sees is the wall-mounted indoor unit in an out-of-the-way spot. Outside, the heat pump looks like an AC condenser — only smaller and not nearly as loud.
And that tiny footprint does a whole lot of work! Now, our homeowner's garage workshop is just as comfortable and climate-controlled as his living room.
If your workshop, rec room, man cave, or den needs a little something extra to be as comfortable as you need it, call or email Snowflake Air today! Starting with a free consultation, we'll help you find the best solution for your ductless mini split installs in Boise, ID garages for your ID home.